37 years of service providing solutions for the physical
testing of rubber, plastic, textiles, and other polymers.
Extensive capabilities and accreditations to handle the certifications you need.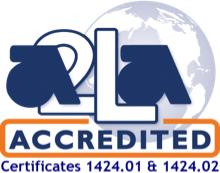 ISO/IEC 17025 – American Association for
Laboratory Accreditation
LEARN MORE

National Institute of
Standards & Technology
LEARN MORE

From preparation to testing, we design, build
and sell the tools your standards require.
Test Preparation Equipment
Material Testing Instruments
Expert service, at our location or yours.
Contact us for expert service
---
CONTACT US TODAY
Calibration Laboratory
We have the most extensively accredited laboratory available. We offer in-house calibration services for a wide variety of testing instruments. Learn more >
On-Site Calibration
Service, repair and calibration for a vast array of physical testing instruments. We come to your facility to service CCSi instruments as well as others. Learn more >