Product Description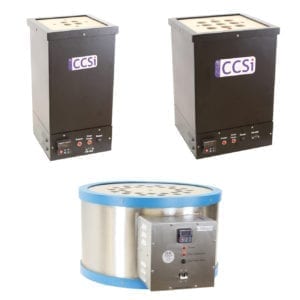 CCSi features this solid cast aluminum block ageing oven to perform individual compartment aging tests on natural and synthetic rubber, silicones and other organic elastomeric materials in conformance with ASTM D471 and ASTM D865.
The ElasTek™ Aging Oven features an optional water cooled reflex condenser, which reduces the need for constant monitoring of fluid levels and virtually eliminates the hazardous build—up of volatile gases. The integral electrical heating elements further reduce the hazards associated with heating volatile fluids.
The aluminum block is encapsulated in insulation and encased in a corrosion resistant housing for protection and ease of maintenance. Uniform heating is provided by high watt electrical heaters that are regulated with high precision P.I.D. temperature controllers.
Access to each compartment is made by removing the convenient insulating pad and stopper. A test specimen may be removed without disturbing those in other compartments. The 300 x 38 mm (standard sized) glass containers are configured to allow natural, controlled rate ventilation, or employ the optional water—cooled reflux condenser.
Get a Quote or Purchase this Product