Product Description
Taber® provides many accessory items to improve all facets of abrasion testing.
In these times of ever increasing emphasis on QA and QC, productivity and cost effectiveness have also been at the forefront.
The Taber® accessories are not only oriented toward improving test results, but efficiency as well!
Get a Quote or Purchase this Product

Taber® Model 5000 Specimen Cutter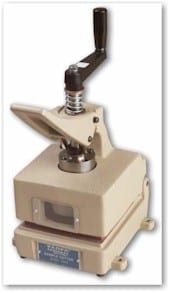 The Taber® Model 5000 Specimen Cutter [P/N 985000] is designed to cut precision specimens of 107 mm (4.2 inch) Ø with a 6 mm (0.25 inch) Ø center hole for the Taber® Abrader.
The anticlockwise cutting motion allows the cutting of a wide variety of materials. Optional cutting pads allow you to cut materials from 0.0254 mm (0.001 inch) to 6.35 mm (0.25 inch) in thickness.
Compact in design, the specimen cutter saves valuable laboratory bench space and can be conveniently located near the abrader. Although compact, the Sample Cutter is also designed for durability and safety, with a recessed cutting blade, shielded punch drive shaft, and ergonomic handle.
The cutting die is easily removed for re-sharpening or replacement.
The Taber® Model 5000 Specimen Cutter [P/N 985000] includes:
Taber® Model 5000 Specimen Cutter: Specifications and Detailed Description
Index Terms:
Taber Abrasion Tester, Taber abraser, abraser, Taber, abrasion, abrasion tester, abrasion test, Taber abrader, Taber Method, abrasion resistance, laminates, paper, cardboard, paper board, thermosetting resins, laminate floor covering, resilient floor coverings, wood and parquet flooring, flooring, elasticity, resistance to wear, melamine, particle board, rubber coated fabric, plastic coated fabric, coated fabric, abrasive wheels, rubbing, paint, varnish, Frick Taber Test, textiles, laminar flow, decorative laminates, glazed ceramic, unglazed ceramic, dimension stone, transparent plastic, rotary platform abrader, powder coatings, polymeric powder, wall coatings, organic coatings, pile retention, protective coatings, mar resistance, scratch resistance, grit feed method, copiers, printers, ink, thermal spray coatings, film, marking, bar code, aminoplastic resins, cloth, foil, anodized aluminum, scuffing, upholstery, anodic oxidation, bodycloth, snagging, bearding, fiber loss, HPL, glazing, safety glazing, 85.060.
---