Product Description
Taber® provides many accessory items to improve all facets of abrasion testing.
In these times of ever increasing emphasis on QA and QC, productivity and cost effectiveness have also been at the forefront.
The Taber® accessories are not only oriented toward improving test results, but efficiency as well!
Get a Quote or Purchase this Product

Taber® Model 155 Grit Feeder
The Model 155 Grit Feeder Attachment [P/N 980503—1] is a durable, precision built test instrument designed to evaluate the resistance of various materials to abrasion.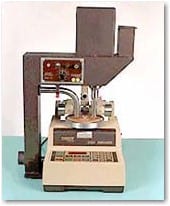 Leather wheels replace regular wheels on the abrader and are supplied with each Grit Feeder. The device feeds aluminum oxide onto the specimen before it passes under the leather wheels.
The integral vacuum pickup system continuously collects the abraded material and used grit after passing under both wheels.
The loose grit serves as an abradant and aids in the rolling action that contributes to the physical breakdown of materials.
Designed for testing flooring material, this unit has expanded uses in modern composite and manmade material testing.
Taber® Model 155 Grit Feeder: Specifications and Detailed Description
Index Terms:
Taber Abrasion Tester, Taber abraser, abraser, Taber, abrasion, abrasion tester, abrasion test, Taber abrader, Taber Method, abrasion resistance, laminates, paper, cardboard, paper board, thermosetting resins, laminate floor covering, resilient floor coverings, wood and parquet flooring, flooring, elasticity, resistance to wear, melamine, particle board, rubber coated fabric, plastic coated fabric, coated fabric, abrasive wheels, rubbing, paint, varnish, Frick Taber Test, textiles, laminar flow, decorative laminates, glazed ceramic, unglazed ceramic, dimension stone, transparent plastic, rotary platform abrader, powder coatings, polymeric powder, wall coatings, organic coatings, pile retention, protective coatings, mar resistance, scratch resistance, grit feed method, copiers, printers, ink, thermal spray coatings, film, marking, bar code, aminoplastic resins, cloth, foil, anodized aluminum, scuffing, upholstery, anodic oxidation, bodycloth, snagging, bearding, fiber loss, HPL, glazing, safety glazing, 85.060.
---