Product Description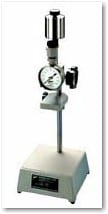 Shore ceased all production operations in 2012 and their products are no longer available. CCSi continues to support Shore equipment in regard to service, calibration and ISO/IEC 17025 certification.
The operating stand's primary function is to increase the reproducibility, repeatability, accuracy and precision, of the hardness determinations acquired with a durometer. The Models DR (Direct Read) and DRCL (Direct Read Constant Load) operating stands will accommodate most Shore® durometers.
The unique ball-and-socket durometer mounting assembly employed by the Models DR and DRCL operating stands assures that the durometer presser foot is parallel to the specimen table (platform, or stage), hence a parallel application of the presser foot to the test specimen.
Maintaining the perpendicularity of the durometer to the specimen is critical in achieving reliable durometer hardness test determinations. The introduction of any lateral force on the durometer's indentor has a known deleterious influence.
The operating stand is primarily intended for use on test specimens with parallel sides (flat). Irregularly shaped specimens may be tested if proper fixturing is provided to make the given surface parallel to the durometer presser foot.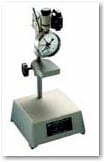 The detachable mass on the model DRCL reduces variability in test determinations due to the application of inconsistent force generally experienced in manual application.
The DR and DRCL models allow the adjustment of the height between the specimen support table and durometer. This distance is now specified in ASTM D2240.