Product Description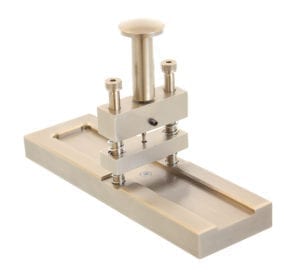 In addition to the dimensional specifications, ASTM D1052 procedures require that the test specimen be punctured by a special piercing tool, which is mated to a specimen holder specifically designed for the purpose. CCSi provides the specimen piercing tool and specimen holder, together listed as the specimen piercing apparatus, although they are available individually.
The CCSi specimen piercing apparatus is of a unique and innovative design. The platen of the specimen holder has a circular orifice containing a compression molded polypropylene disc, which acts as a receiver for the piercing tool. Upon penetration of the specimen, there is no metal-to-metal contact of the constituent parts, as is the case with typical designs.
This prolongs the life of both the specimen holder and piercing tool, while improving test determinations by maintaining a sharply formed piercing edge and not deforming the receiving platen.
The receiver for the compression molded polypropylene discs contains a 'bored-through' orifice facilitating the disc's replacement. The contact surfaces of the poly discs are flat and parallel and may be used on either side, further improving cost effectiveness.
The test pieces may also be obtained from articles, requiring that the specimens be die cut. CCSi also features a D1052 Specimen Cutting Die. Test pieces obtained in this way must be buffed, or ground, to the specified thickness prior to die cutting.
The Emerson Type Rubber Buffer and the Hung Ta™ Par-Marton Type Specimen Adjuster, both of which are suitable for this application and comply with the requirements of ASTM D3183 'Standard Practice for Rubber — Preparation of Pieces for Test Purposes from Products', are available from CCSi.
Get a Quote or Purchase this Product