Product Description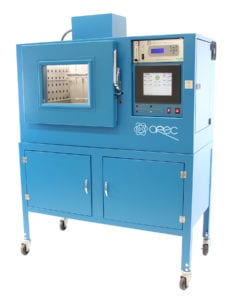 OREC™ 0550 — 0950 Series Ozone Test Chambers provide continuous ozone measurement, control, and computerized recording in one self contained unit … factory—tested and ready to operate!
The measurement system incorporates the field—proven and time—tested OREC™ Model DM—150 Ozone Monitor, which employs the ultraviolet (UV) absorption principle for ozone measurement. This automatic ozone measurement and control system is specific to ozone and requires no operating chemicals.
The OREC™ UV automatic measurement and control system continually and rapidly corrects for ozone concentration changes regardless of influencing variables, such as air temperature, relative humidity, line voltage, volatile and aerosol levels of the laboratory atmosphere, etc., which adversely influence stable ozone concentrations in manually controlled units.
Advantages of this automatic control system also include:
rapid resumption of ozone concentrations between test cycles;
tests proceed unattended;
fast response to set point changes.
OREC™ Ozone Chambers are the industry standard for reliable laboratory testing.
The operation of the unit is quite straight forward:
Set the digital "touch—screen" display to the desired ozone test concentration, enter the user defined test parameters, and the automatic control system regulates and maintains the "set point" ozone concentration, and corrects for external temperature and humidity variations.
"Set—It—And—Forget—It" continuous unattended operation!
Get a Quote or Purchase this Product