Product Description
Shore ceased all production operations in 2012 and their products are no longer available. CCSi continues to support Shore equipment in regard to service, calibration and ISO/IEC 17025 certification.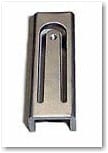 The Shore® Metal Test Block, now discontinued, was designed to be used as a 'quick check' for ascertaining the operational status of individual durometers having a mainspring of 822 gf or greater.
The metal test block, which was originally supplied with older Shore® durometers, was unique to each durometer that it accompanied. When the durometer was calibrated, the metal test block was adjusted to that durometer (the parent), so that when applied, the parent durometer would read 50 durometer units. It was not valid for use with any other durometer.
ASTM D2240 recommends that the metal test block be replaced with an elastomeric test block when the durometer is returned for calibration.
Get a Quote or Purchase this Product