Product Description
CCSi manufactures a high quality Rotary Drum Abrader for evaluating resistance to abrasion of rubber materials through the measure of the volumetric loss of a specimen exposed to the action of a normalized abrasive medium, secured to a rotating cylinder.
The Model CCS-RDA Rotary Drum Abrader is manufactured according to the specifications and requirements set forth in DIN 53516, ASTM D5963, and ISO 4649, JIS K6369.
The Rotary Drum Abrader features the rotation of the test specimen while it moves laterally across the rotating drum. This assures uniform contact of the test specimen to the abrasive media and provides more reliable, accurate, and meaningful test determinations. Alternatively, the specimen holder may be locked into a fixed position.
The rotating cylinder assembly is designed for ease of disassembly to facilitate the replacement of the abrasion medium. Removable basins, that do not require drum removal, are situated below the drum to facilitate removal of the abraded material.
The Rotary Drum Abrader includes an adjustable load range between 500 g and 1 kg. It features highly automated 'test cycling', is equipped with conveniently mounted instrument controls, and a highly reliable motor/drive assembly.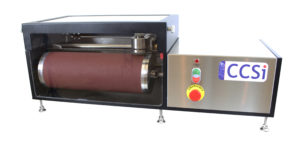 Get a Quote or Purchase this Product

Rotary Drum Abrader: Specifications & Features
Complies with both DIN 53516 and ASTM D5963
Rotating or fixed specimen holder
Adjustable load range of 500 gram to 1 kg load
Automatic lock of the rotating drum at the end of the test cycle
Unlockable rotating drum to facilitate quick and easy replacement of the abrasive media
Specimen holder correctly positions specimen for accurate, repeatable tests
Drum cover with automatic safety interlock
Emergency stop button
Power: 120V – 60Hz, 4A
Dimensions (W x H x D): 36 x 14.25 x 14 in. (914.4 x 361.95 x 355.6 mm)
Weight: 125 lb. (56.70 kg)
Index Terms:
ASTM D5963 Abrasion Tester, DIN Abrasion Tester, abrasion tester, abaser, abrader, DIN, DIN abrader, abrasion, DIN 53 516, DIN 53516, JIS K6369, abrasion test, ASTM D5693, D5963, abrasion resistance, ISO 4649, Rotary Drum Abrader, rotating drum, rotary drum, rotating cylinder, rotary cylinder, abrasion resistance index, ARI, frictional wear, mass loss, volume loss, wear behavior, 83.060, vulcanized rubber, thermoplastic elastomer, thermoplastic rubber, TPE, TPR, service life, service performance