Product Description
Rex Durometer Operating Stand: Models OS—2
Rex Gauge Co. introduces the OS-2 compact operating stand for the operation of durometers in the A, B, O and E scales. The stand, when used in conjunction with a Rex Durometer, eliminates operator error sometimes associated with shop floor durometer testing. The stand features a load weight for the proper testing pressure as noted in ASTM D2240, a quick-lock column for easy adjustment.
Features:
Eliminates Operator Error in the A, B, O and E Scales
Stainless Steel and Anodized Aluminum Construction
Compact Size – 13″ High x 6″ Wide.
Total Weight Approximately 13 lbs
Made in the USA
For models 1600, 2000, 3000, 4000, 5000, DD-4, and DD-5; Types A, B, O, and E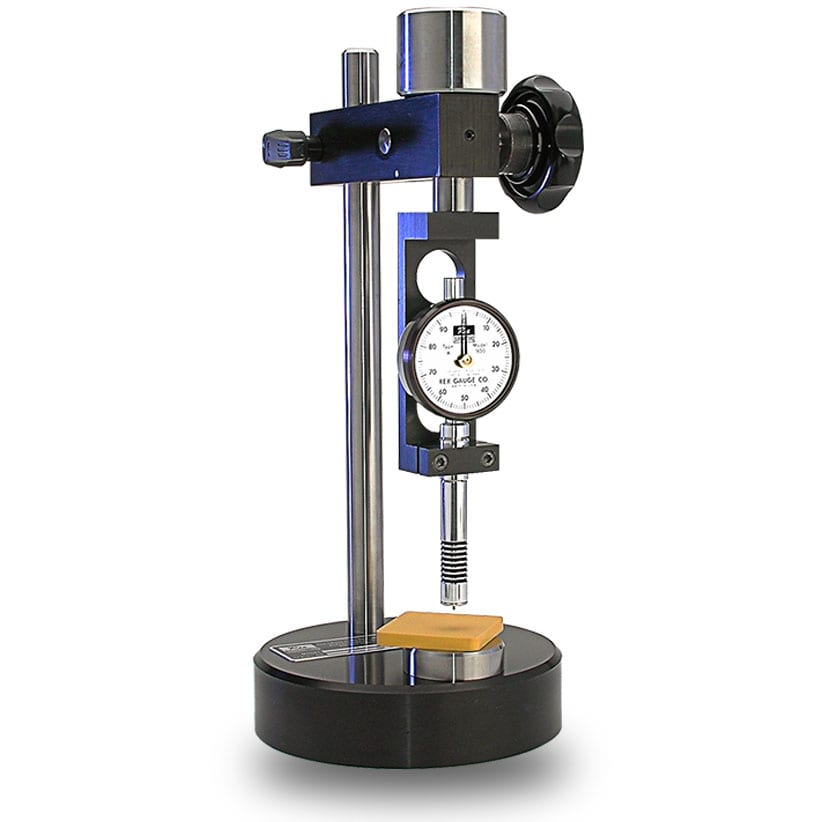 Get a Quote or Purchase this Product

Rex OS-2 Specifications
| | |
| --- | --- |
| Model | OS-2 |
| Durometer Scale: | A, B, O, and E |
| Durometer Compatibility | 1600, 2000, 3000, 4000, 5000, DD-4, and DD-5 |
| Dimensions | 13" x 6" |
| Weight | 13lbs |
Index Terms:
Index Terms: Rex Durometer, Rex Durometers, Shore hardness, pocket durometer, Shore scale, automatic operating stands, durometer operating stand, durometer stand, operating stand, hardness, rubber hardness, plastic, plastic hardness, indentation hardness, ebonite, ebonite hardness, rubber hardness testing, rubber testing, hardness testing, durometer hardness, testing, ASTM D2240, D2240, ASTM D1957, ISO 868, ISO 7619, JIS K6253, JIS K6251, JIS K6252, JIS K 6253, JIS K6254, JIS K6255, JIS K6256, JIS K6257, JIS K6258, JIS K6259, JIS K6260, DIN 53505, DIN 53 505, CNS, K6898, BS 903, BS 2782, BS ISO 21509, BS EN ISO 868, GB/T 10807, Asker, Asker C, SRIS0101, MIL-STD-45622A, MIL-I-45208A, MIL-STD-120, 83.060, 83.080.01, hysteresis, creep, Young's Modulus.