Product Description
Our racing tire durometer was designed to produce accurate results each time to give you the edge for your rally, motocross, drag, kart, F-1, Nascar, etc. Drivers routinely refer to tires as "hard" and "soft," hard tires supposedly being the norm for a newly repaved race track. Many race tracks rely on tire durometers that are used to measure the indentation hardness of the tire.
These durometers can be customized with your team name and/or drivers name and number!
For hardcore racers, the durometer has 2 primary functions:1. Tires matching. Even the same brand and model tires can have variances (older tires get harder just sitting on a shelf and doing nothing). There can also be batch to batch variances so to ensure maximum consistent, predictable performance, racers will test tires to make sure that a set measures the same durometer (the term is both used for the tool and the measurement) before mounting them.
2. They then track the changes in durometer over the life of the tire (assuming you don't wear them beyond usable life first), and note the changes in grip so they know when to change the tires to retain the maximum grip and handling and when the tires have exceeded their heat cycle life and are now costing them time.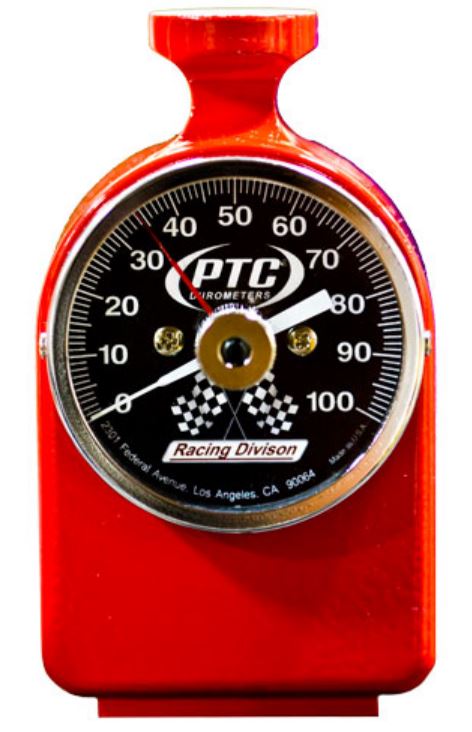 Actual Durometer Hardness Readings Reported:
Michelin Pilot Sport Cup @ 68F = 62A DP @ 112F = 55A DP durometer
Avon Tech R-A @ 69F = 58A DP @ 165F = 46A DP durometer
Hoosier R3S05 @ 66F = 56A @ 165F = 44A durometer
Kumho ECSTA V710 @ 66F = 58A
BF Goodrich Traction T/A all-season tire @ 74F = 58A durometer
Michelin Cross Terrain SUV all-season @ 74F = 59A durometer
Michelin Rear Formula 1 slick @73F = 70A durometer
Bridgestone Rear Formula 1 Rain i @ 74F = 66A durometer
Hoosier Feedback:
Hoosier Tire – R3S05 / R6 / CUP
Durometer Reading
Cold…71-74A
Hot….50-55A
Kuhmo Feedback:
V700 Victoracer, Ecsta V700, and Ecsta V710 @ 72° F = 70-72A. At operating temperature (surface temp of 175° F/internal temp of 250° F), = 58A After that initial heat cycle, the durometer reading returns to 69 to 70A at room temperature.
Get a Quote or Purchase this Product