Product Description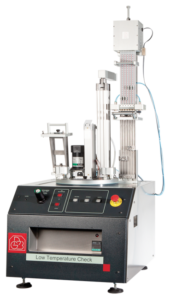 CCSi features the Gibitre™ Temperature Retraction (TR) and Brittleness Point Tester for the evaluation of the effects of crystallization and for the comparison of the viscoelastic properties of rubber and rubber-like materials at low temperatures, as described in ASTM D1329, "Standard Test Method for Evaluating Rubber Property—Retraction at Lower Temperatures (TR Test)." 1
The instrument is also designed the for the determination of the lowest temperature at which rubber vulcanizates and rubber coated fabrics will not exhibit fractures or coating cracks when subjected to specified impact conditions, as described in ASTM D2137 "Standard Test Methods for Rubber Property-Brittleness Point of Flexible Polymers and Coated Fabrics." 2
The Temperature Retraction (TR) and Brittleness Point Tester is also employed for the determination of the temperature at which plastics and elastomers demonstrate failure (by impact) when brittle, as described in ASTM D746 "Standard Test Method for Brittleness Temperature of Plastics and Elastomers by Impact."
CCSi manufactures the test specimen cutting dies for ASTM D746 Types I, II, and III, D1329 (25, 38, and 51 mm) , and D2137 Types A and B.
1 Related Methods, Temperature Retraction (TR) Test:
ISO 2921
BS 903-A29 (UK)
NF T4NF T46-032 (France)
2 Related Methods, Brittleness Point Test:
ISO 812
DIN ISO 812 (Germany)
BS 903-A25 (UK)
The Gibitre™ Temperature Retraction (TR) and Brittleness Point Tester features PC controlled operations and Microsoft Windows® based operating software. In both testing procedures, the entire testing cycle is precisely controlled by the PC.
The electro—mechanical and pneumatic mechanisms greatly simplify the testing procedures, reducing technician intervention and producing accurate, precise and reliable results. The PC acquires and stores test data and performs enhanced test functions.
Other features include: digital electronics, integral apparatus for conducting both temperature retraction and brittleness point tests, automatic PC controlled "start—to—finish" test cycles, 5 litre testing chamber and a self contained thermostatic bath which may be cooled by either liquid nitrogen or carbon dioxide.
Additional features include conveniently located instrument controls, status indicators and a large backlit LCD data / function display.
The acquisition and storage of data allows the creation of a referential database for subsequent development of production control, R&D, and QC/QA applications.