Product Description
Shore ceased all production operations in 2012 and their products are no longer available. CCSi continues to support Shore equipment in regard to service, calibration and ISO/IEC 17025 certification.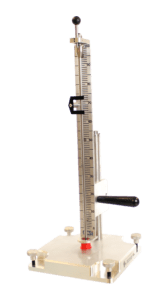 The Shore® Model SRI Resiliometer, commonly referred to as a Bayshore Resiliometer, quickly and accurately measures the "Rubber Property—Resilience by Vertical Rebound" as described in ASTM D2632.
The determination of rebound resilience is accomplished by dropping a plunger of a specific mass and geometry from a predetermined height to the surface of a test specimen and measuring the distance that the plunger rebounds after contact and calculating the ratio of rebound distance to the distance traveled by the mass prior to contacting the test specimen.
This ratio is expressed as a percentage, and since the scale is graduated into 100 equal divisions, this ratio (percentage) may be read directly from the scale when the plunger rebounds to its maximum height.
This instrument is especially useful in developing compounds that are intended to effect the transmission of shock or vibration, as "… resilience is a function of both the dynamic modulus and the internal friction of a rubber." (ASTM D2632 Section 4).

Shore® (Bayshore) Resiliometer: Features
Integral leveling feet and "bulls eye" bubble—in—liquid glass level;
Height adjustable Pass/Fail Gauge;
Easy—to—read graduated scale, easily adjusts to specimen height;
Portable, no power required;
Quality cast frame, stainless steel post and other durable components;
Rugged vinyl dust cover.
Shore® (Bayshore) Resiliometer: Specifications & Pricing
| | |
| --- | --- |
| Scale: | 0—100 |
| Resolution: | 1 point increments |
| Total Height: | 559 mm (22 inches) |
| Scale Height: | 406 mm (16 inches) |
| Width: | 248 mm (9.76 inches) |
| Depth: | 241 mm (9.49 inches) |
| Specimen Table: | 180 x 115 mm (7.1 x 4.53 inches) |
| Jaw Capacity Height: | 89 mm (3.5 inches) |
| Jaw Capacity Depth: | 44 mm (1.73 inches) |
| Weight: | 7.7 kg (17 lb.) |
| Standards: | ASTM D2632 |
Certificate of calibration is included.
Index Terms
rebound resilience tester, Bayshore, resilience, ASTM D2632, vertical rebound, vertical, rebound, rebound resilience, resiliometer, Shore, Model SRI, impact, rubber, 83.060.