Product Description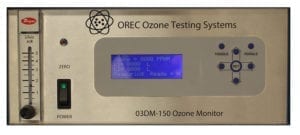 The OREC™ DM—150 Series Ozone Monitors are a continuous ozone measurement instrument for the determination of ozone in air or oxygen. The standard instrument provides the range of 0 — 1000 ppm (parts per million) by volume, displayed on a panel mounted digital readout meter. The DM—150 Series also alternately displays ozone concentration in millipascals (mPa).
The principle of ozone measurement is the absorption of ultraviolet light by ozone as determined by the Beer—Lambert Absorption Law
This, in conjunction with the standard gas laws for temperature and pressure correction, is recognized by the EPA as the preferred method used in the calibration of ambient ozone analyzers.
ASTM D4575 (Volume 09.01) states: "UV absorption is adopted as the reference method against which other ozone measurement instruments shall be calibrated."
The OREC™ DM—150 Series Ozone Monitors incorporate an ultraviolet light source, a narrow band 254 nm interference filter and a phototube for measuring light intensities. Ultraviolet light passing through a sample of gas containing no ozone is measured and the value stored. This value is then compared to the light intensity with ozone present.
The two values are sent to a signal processor which calculates the ozone concentration using the Beer—Lambert equation, providing non—linear approximations, but accurate over the entire range of the instrument.
The signal processor also includes automatic temperature compensation and a front panel mounted potentiometer calibrated to the barometric pressure is provided for manual pressure compensation.
The OREC™ DM—150 Series Ozone Monitors are unique in that a single instrument provides accurate measurement from 0 — 1000 ppm, with three ranges for increased sensitivity. Recognizing the requirement for rapid Ozone measurement, the instrument incorporates design features which minimize warm—up time.
Whether your requirement is for ambient air monitoring, ozone test chamber measurement, plant safety monitoring, research, control of ozone monitors or other applications, the OREC™ DM—100 Series Ozone Monitors fulfill the need for accurate, reliable and automatic ozone monitoring.
This, combined with the widest range, shortest warm—up period, and maximum updated reading time of any available monitor make the OREC™ DM—150 Series the industry's choice!
Get a Quote or Purchase this Product