Product Description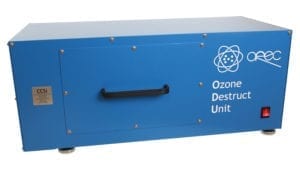 The OREC™ Ozone Catalytic Destruct Units (CDUs) are designed for the OREC™ 0550 — 0950 series Ozone Chambers. The ozone that is discharged from the test chamber is "catalyzed" … turning it back into oxygen, eliminating the need for complicated and costly external ducting. The CDUs are completely integral, self-contained units.
Utilizing a proprietary metal oxide catalyst, the CDU is able to achieve over 99% destruct efficiency for concentrations of up to 250 PPHM. Comparatively, alternative technologies that employ activated carbon, which chemically reacts with the ozone, generates carbon dioxide and small amounts of carbon monoxide.
Another disadvantage of this process is that it consumes the activated carbon!
Unlike activated carbon, which requires frequent replacement, the OREC™ CDU Catalyst is not rapidly diminished by ozone.
Additionally, the destruction of ozone in the OREC™ CDU takes approximately 20% of the time required by activated carbon technologies.
The Catalytic Destruct Unit is constructed of high—grade stainless steel. It rests on 4 highly ozone resistant elastomeric supports which ensures stability and reduces the effects of vibration.
The CDU is coated with an industrial epoxy based finish which is color matched to the OREC™ Chambers. A stainless steel mesh screen covers the exhaust port preventing entry of foreign material. The CDU is internally sealed for maximum efficiency.
The illustration shows a cut—away view of the Catalytic Destruct Unit. The primary structural pieces are shown in red, while green represents the heater and heater support brackets. The metal oxide catalyst is contained within the blue structure and yellow identifies the blower. The ozone laden air enters through the opening in the bottom just below the heater.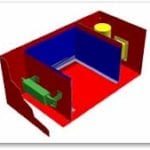 Get a Quote or Purchase this Product