Product Description
Shore ceased all production operations in 2012 and their products are no longer available. CCSi continues to support Shore equipment in regard to service, calibration and ISO/IEC 17025 certification.
The truly state—of—the—art Shore® Model S1 Modular Digital Durometer revolutionizes and surpasses traditional methods of testing the hardness of rubber and plastic materials. It provides the user with a large, high contrast, digital LCD display that holds the reading at a preset elapsed time, until reset by the operator. Adjustable through the integral timer, it assures accurate timed readings.
Engineered and built to exacting standards, the Shore® Model S1 Modular Digital Durometer will provide the precision and longevity associated with the Shore® name since 1915.
The unique Shore® Model S1 Modular Digital Durometer incorporates an "LVDT" with I/C technology that accurately senses indentor position and a "Load Indicator" that assures the proper application of force to the test specimen for improved accuracy and repeatability when used as a hand held durometer.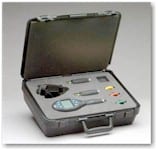 The modular design provides 10 standard scale interchangeable pre—calibrated test probes in Shore scales A, B, C, D, DO, M, O, OO, and JIS scales A & C. The new Types OOO and OOO—S will be introduced in the coming months.
Shown on the right is the S1 with the optional mounting kit including the RS232—C cable, additional test probes, test blocks, and carrying case.
The optional mounting kit attaches the S1 to Shore® automatic or manual operating stands.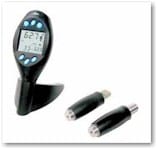 The Model S1, shown on the left, is in the display stand (included with the test stand mounting kit). The detachable probe (center) is connected to the main display body using an RS232—C cable (not shown) and may be operated as a hand held unit independent of the display body.
The detachable probe (right) is shown with the adapter interface. This allows the probe to be mounted on a Shore® operating stand using the optional test stand mounting kit.
Please refer to the Shore® Durometer Selection Guide for an explanation of Shore® model, type and scale designations, as well to assure the proper selection of the Shore® durometer to suit your specific application.
Get a Quote or Purchase this Product