Product Description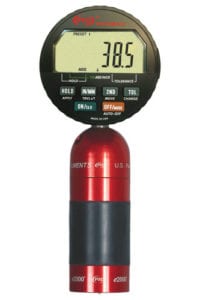 The PTC® e2000 Digital Style Durometers are manufactured to meet or exceed current ASTM D2240 specifications and designed to measure the indentation hardness of rubber, elastomers, and other rubber like substances such as neoprene, silicone, vinyl, nitrile, and butyl. They can also be used for soft plastics, felt, leather, and similar materials.
The e2000 Digital Style Durometers combine digital readability with an indentor load cell to create an accurate, affordable and reliable digital hardness tester.
The LCD digital display features bold, easy to read, numbers which virtually eliminates parallax induced errors and saves time by indicating a specific value, with a 0.1 resolution, for each determination.
A standard electronic maximum hold button retains the peak reading until reset. The e2000 Digital Durometers also feature an RS—232C data port, automatic shut—off timer, a low battery warning indicator and an ergonomically designed 1¼ inch diameter base.
The durometer should be used in a near vertical position, but may be used at up to 90º.
Get a Quote or Purchase this Product