Product Description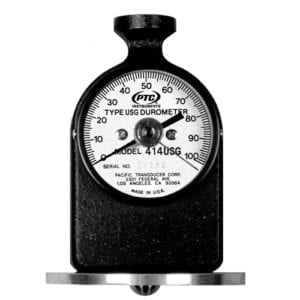 The PTC® Model 414USG is deigned for use as a process control instrument in the manufacture of gypsum board (drywall / plaster board). It is also a valuable QA/QC tool for manufacturers, resellers, installers, and end users.
These durometers can be used either with a test stand or as hand—held testers. Please refer to the 'PTC® Durometer Stand' sections for appropriate applications.
The PTC® Model 414USG comes complete with carrying case and test block. The Classic Style Durometers feature a low glare aluminum serialized dial with bold, easy to read numbers. The durometer comes standard with an ancillary hand (maximum reading hand) for indicating peak readings.
Get a Quote or Purchase this Product