Product Description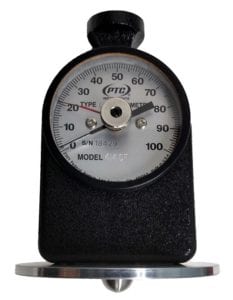 The PTC Model 414CF is manufactured to meet or exceed current ASTM F1957 specifications and designed to measure the indentation hardness of all generations of foam products: freon blown types, water blown types, composite foams and other types usually found in the amusement ride industry.
These durometers can be used either with a test stand or as hand—held testers. Please refer to the 'PTC Durometer Stand' sections for appropriate applications.
The PTC Model 414CF comes complete with carrying case and test block. The Classic Style Durometers feature a low glare aluminum serialized dial with bold, easy to read numbers. The durometer comes standard with an ancillary hand (maximum reading hand) for indicating peak readings.
Get a Quote or Purchase this Product