Product Description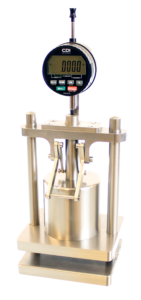 CCSi features this high quality Williams' Parallel Plate Plastometer for the evaluation of the plasticity and recovery of unvulcanized, uncompounded, compounded and reclaim rubber as described in ASTM D926 "Standard Test Method for Rubber Property — Plasticity and Recovery (Parallel Plate Method)."
The Williams' Plastometer features construction of high carbon content steel, which is hard chrome plated for durability and ease of maintenance. The specimen contact surfaces are precision ground. The device is easy to load and unload using the eccentric cam operated lever.
The Williams' Plastometer also features an easily removable indicator, allowing the device to be placed in environmental chambers for performing tests at elevated or subnormal temperatures.
The indicator support is unique in that it assures that when the indicator is replaced, after elevated or subnormal temperature tests, it will return to a near zero position. Any small variation being due to the coefficient of expansion of the construction materials, which have been considered for their properties in the manufacture of this high quality instrument.
The digital indicator features an integral timing device, which holds the final test determination until it is reset by the operator. The digital indicator also has many utilitarian functions as described in the "features" section of ASTM D926 Digital Thickness Gauge.
The term "Plastometer" and "Plastimeter" are used interchangeably in describing the instrument. Where "Plastometer" is favored in the Americas, the term "Plastimeter" is favoured in Europe.