Product Description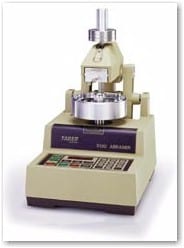 The Taber® Multi-Media Particle Abrasivity Testing Attachment provides additional flexibility for the Taber® Models 5130/5131 and 5150/5151 Abrasers.
It is available as a separate attachment or premounted on the single or dual Taber® Abrasers.
The Model 5500 is designed to measure the abrasivity of virtually any fluid, semi—solid, or powder. Typical applications include paints, pigments, adhesives, sealants, epoxies, pastes, dental powder, detergents and industrial additives… to mention just a few.
The Model 5500 employs a proven weight loss testing method. The medium to be tested is placed in the testing dish, where three brass pins rotate in contact with a stainless steel wear disc. The powder, fluid or semi—solid between them acts as an abrasive and causes wear.

The weight loss of the brass pins is measured after each test and provides an accurate comparison of abrasion rates of different media. The test can be easily customized to suite specific requirements.
The Model 5500 features an adjustable gearbox with two standard drive ratios for testing a wide variety of media. The optional Hi/Lo gear set provides even greater flexibility. A heated specimen dish is available, as an option, for simulating elevated temperature conditions.
Get a Quote or Purchase this Product