Product Description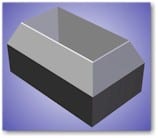 CCSi manufactures these high quality UltraLife Specimen Cutting Dies for the evaluation of the comparative ability of vulcanized rubber, fabric coated with vulcanized rubber, and finished articles of rubber and rubber-like compositions to withstand the effect of liquids, as described in ASTM D471 'Standard Test Methods for Rubber Property — Effects of Liquids'.
The standard specimen, as specified in D471, Part 9, 'Test Specimen — Change in Mass or Volume', is rectangular with dimensions of 25 x 50 x 2.0 ± 0.1 mm (1.0 x 2.0 x 0.08 ± 0.004 inch).
Part 9 also stipulates that when the specimen is to be obtained from a test piece (acquired from an article) that has a thickness greater than 2.0 mm (0.08 inch) it "…should be reduced to a thickness of 2.0 ± 0.1 mm (0.08 ± (0.004 in.)."
CCSi features the Emerson Type Rubber Buffer and the Hung Ta™ Par-Marton Type Specimen Adjuster, both of which are suitable for reducing the thickness of articles, test pieces, and test specimens and are recommended in this application. They comply with the requirements of ASTM D3183 'Standard Practice for Rubber — Preparation of Pieces for Test Purposes from Products'.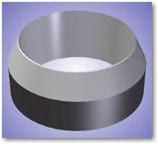 The test specimen, described in D471, Part 13, 'Procedure for Change in Mass with Liquid on One Surface Only', is 60 mm (2.4 inch) in diameter, and the thickness of thin sheet or rubber coated fabric being tested (assuming a thickness no greater than 2.0 mm, or 0.08 inch). CCSi also manufactures this specimen cutting die, as well as the Surface Immersion Apparatus (by special request) for conducting the Part 13 test procedure.