Product Description
A digital durometer, when used in conjunction with the DuroMaster software, allows users to:

• Perform timed tests – set durometer dwell time;
• Automatically collect and save data to CSV format;
• Calculates statistical information • High, low, standard deviation, average, mean, median;
• Set high and low tolerance limits;
• Open data in any spreadsheet application;
• Custom USB cable and dongle included;
• Works with Rex DD4, 4000, DD5, 5000 series and PTC e2000 digital models manufactured after 2012.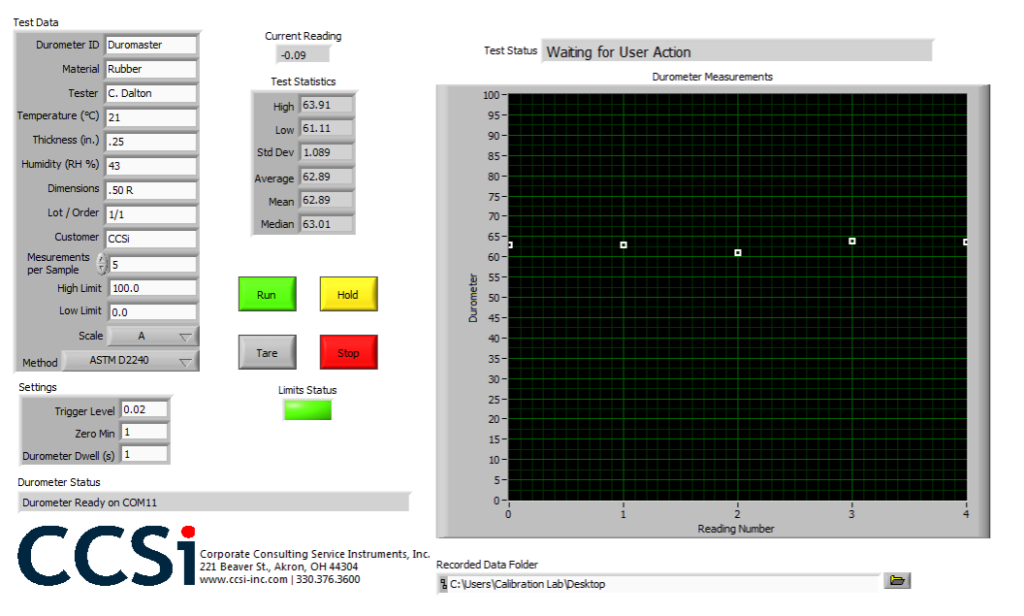 CCSi provides durometer calibrations that meet ISO/IEC 17025. CCSi technicians have been factory trained or certified by most internationally recognized durometer manufacturers. Our world-class durometer calibration facility has earned OEM
status and complies to the strict requirements of manufacturers, calibration laboratory accreditation services, and standards development organizations (SDOs)

Index Terms:
durometer operating stand, durometer stand, operating stand, standard durometer, round durometer, Shore durometer, Shore durometers, Shore hardness, Shore, Shore A, Shore D, hardness, rubber hardness, plastic, plastic hardness, indentation hardness, ebonite, ebonite hardness, rubber hardness testing, rubber testing, hardness testing, durometer hardness, testing, ASTM D2240, D2240, ASTM D1957, ISO 868, ISO 7619, JIS K6253, JIS K6251, JIS K6252, JIS K 6253, JIS K6254, JIS K6255, JIS K6256, JIS K6257, JIS K6258, JIS K6259, JIS K6260, DIN 53505, DIN 53 505, CNS, K6898, BS 903, BS 2782, BS ISO 21509, BS EN ISO 868, GB/T 10807, Asker, Asker C, SRIS0101, MIL-STD-45622A, MIL-I-45208A, MIL-STD-120, ERDEC, TRDEC, NAVSWC, DREA, 83.060, 83.080.01, 904a.