Product Description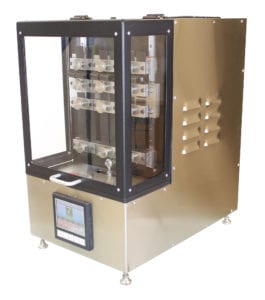 The DeMattia's lower mechanism is constructed from stainless steel and other alloys that resist the negative effects of fluids and liquids.
The DeMattia Flex Tester incorporates a quality self—contained electric motor which provides from 60 to 300 cycles per minute at with an adjustable stroke of 0 to 60 mm. The clamping mechanism is adjustable to induce varying amounts of stress of up to 12 test specimens. The range of adjustment of the cycles, stroke, and stress allow nonstandard specimens to be tested.
The instrument is equipped with a polyacrylic enclosure to greatly reduce the effects of the surrounding environment, when used as a bench top instrument. The enclosure also features a positive interlock mechanism to prevent unintentional disturbance during the testing cycle.