Product Description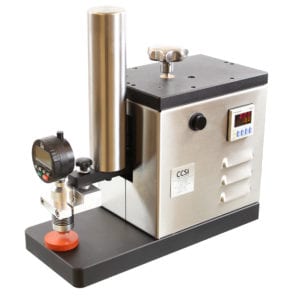 CCSi sells durometers of all makes including: Gibitre®, Hildebrand®, PTC®, Rex®, and Wallace®. In addition to CCSi's durometer selection, an advanced automatic operating stand is also available.
Operating stands are ideal for repetitive, lab, R & D, or production environments. The operating stand eliminates operator error, improving accuracy, precision, repeatability, and reproducibility.
The 904a operating stand is available in 2 configurations:
1. Metallic adjustment knob:
•   Requires no additional mass for Types A, B, E, & O
•   Requires large mass for Type C, D, & DO
•   Will not accommodate OO, OOO, or OOO-S
2. Polymer adjustment knob:
•   Requires small mass for Types OO, OOO, or OOO-S
•   Requires medium mass for Types A, B, E, & O
•   Requires large mass for Type C, D, & DO
Please consider these options when ordering the 904a operating stand.
The CCSi Operating Stand can accommodate specimens varying in size from 0.25 to 10 inches thick. CCSi is also a specialist in the service and calibration of all types of durometers!
CCSi technicians have been factory trained or certified by most internationally recognized durometer manufacturers. Our world-class durometer calibration facility has earned OEM status and complies to the strict requirements of manufacturers, calibration laboratory accreditation services, and standards development organizations (SDOs).
All calibration standards meet the requirements of ISO/IEC 17025. The calibration services and reports provided will meet your ANSI, ASTM, DoD, EuroNorm (EN), ISO, MIL, and other standards, as well as proprietary inter-company standards and customer/supplier requirements including those of automobile manufacturers.
NOTE: The 904a Operating Stand shown above is outfitted with optional mount and mass accessories (not included).