Product Description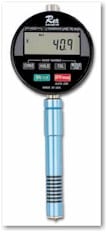 The following product has been discontinued and this page remains online for reference only.  CCSi continues to support equipment in regard to service, calibration and ISO/IEC 17025 certification.  Please refer to Model DD-4 or DD-5 for replacement.
The Rex® DD—3 Digital Durometer is designed to meet the ASTM D2240 specifications.
The Rex DD-3 Digital Durometer is the successor to the popular Rex DD-1. With its impressive list of features, the DD-3 is truly state-of-the-art, and is the ideal instrument for lab use. Some of the new features are: a new, larger direct drive LCD display, USB data ports for computer compatibility, a locking feature to prevent accidental erasure of tolerances, automatic shutoff.