Product Description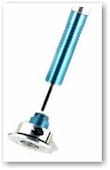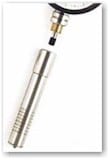 Rex® specializes in durometers to fit specific non-standard applications. Rex® can manufacture a durometer to perform hardness determinations on virtually any non-metallic material! Rex® has myriad custom durometer models and options.
Rex® features many special durometer types that conform to a specified standard, i.e. ASTM, ISO, DIN, JIS, Asker, etc. All special durometers are produced with the same accuracy and precision as our standard product line, and most are available in analog or digital models.
The removable foot and lower barrel options are invaluable when testing materials that are uncured, adherent, cohesive and for applications that require the durometer to be repeatedly cleansed or sterilized.
The removable sections of the durometer allow the user to remove debris remains on the gauge after testing. They are commonly employed when determining the hardness of clays, uncured epoxies or sealants, printing rollers, etc.
They are also available in stainless steel (shown above right) which will endure harsh chemicals and rigorous exposure to the autoclaves used in medical and biomedical research.
The Rex® Removable Foot and Removable Barrel options are available for most Rex® durometer models.

Index Terms:
Rex Durometer, Rex Durometers, Shore hardness, pocket durometer, Shore scale, hardness, rubber hardness, plastic, plastic hardness, indentation hardness, ebonite, ebonite hardness, rubber hardness testing, rubber testing, hardness testing, durometer hardness, testing, ASTM D2240, D2240, ASTM D1957, ISO 868, ISO 7619, JIS K6253, JIS K6251, JIS K6252, JIS K 6253, JIS K6254, JIS K6255, JIS K6256, JIS K6257, JIS K6258, JIS K6259, JIS K6260, DIN 53505, DIN 53 505, CNS, K6898, BS 903, BS 2782, BS ISO 21509, BS EN ISO 868, GB/T 10807, Asker, Asker C, SRIS0101, MIL-STD-45622A, MIL-I-45208A, MIL-STD-120, 83.060, 83.080.01, hysteresis, creep, Young's Modulus.