Product Description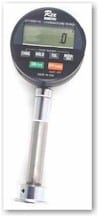 Rex® specializes in durometers to fit specific non-standard applications. Rex® can manufacture a durometer to perform hardness determinations on virtually any non-metallic material! Rex® has myriad custom durometer models and options.
Rex® features many special durometer types that conform to a specified standard, i.e. ASTM, ISO, DIN, JIS, Asker, etc. All special durometers are produced with the same accuracy and precision as our standard product line, and most are available in analog or digital models.
The Rex® Model RR is designed for determining the durometer hardness of harder materials such as vacuum formed ceramic fiber, fiberboard, gypsum wallboard, plasters and similar materials.
It is also useful as a process control instrument in the manufacture of wallboard, fiberboard and other products.
The Rex® Model RR Features:
Available in analog and digital models (digital model shown);
Custom made storage case;

Index Terms:
Rex Durometer, Rex Durometers, Shore hardness, pocket durometer, Shore scale, hardness, rubber hardness, plastic, plastic hardness, indentation hardness, ebonite, ebonite hardness, rubber hardness testing, rubber testing, hardness testing, durometer hardness, testing, ASTM D2240, D2240, ASTM D1957, ISO 868, ISO 7619, JIS K6253, JIS K6251, JIS K6252, JIS K 6253, JIS K6254, JIS K6255, JIS K6256, JIS K6257, JIS K6258, JIS K6259, JIS K6260, DIN 53505, DIN 53 505, CNS, K6898, BS 903, BS 2782, BS ISO 21509, BS EN ISO 868, GB/T 10807, Asker, Asker C, SRIS0101, MIL-STD-45622A, MIL-I-45208A, MIL-STD-120, 83.060, 83.080.01, hysteresis, creep, Young's Modulus.