Product Description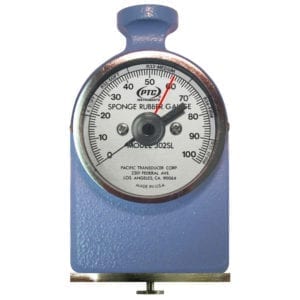 The PTC® Model 302SL is designed to measure the hardness of a wide variety of foams, sponges and similar materials. The unique 1 cm² flat, circular indentor and 142 gf mainspring are PTC® exclusives!
This durometer can be used either with PTC® test stands or as a hand—held tester. Please refer to the 'PTC® Durometer Stand' sections for appropriate applications.
The PTC® Model 302SL offers an economical alternative to 'ILD' testers! They come complete with carrying case and test block. The durometers come standard with an ancillary hand (maximum reading hand) for indicating peak readings.