Product Description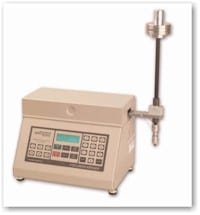 CCSi is pleased to introduce the Taber® Linear Abraser… the first wear and scratch tester specifically designed for measuring the abrasion resistance of finished products of virtually any size or shape!
The new Linear Abraser uses a floating head to follow the contours of the specimen, permitting the testing of finished products.
The limitations of specimen size and shape are virtually nonexistent, making the Linear Abraser ideal for testing molded plastic parts, automotive components, painted and coated parts, optical products… the possibilities are endless!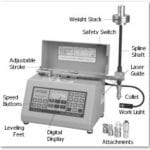 The Wearaser™ abrasive, similar in configuration to a standard pencil eraser, employs the same high quality materials found in other Taber® Abrasive Media, assuring consistent test results.
The Model 5750 features adjustable stroke length, speed, load, and a wide variety of Taber® Wearaser™ abrading media, allowing the customization of test parameters to suit virtually any requirement.
The optional sample tables provide additional flexibility for small or irregularly shaped specimens. Other optional attachments allow the conversion of the Linear Abraser to a scratch tester or a crock meter.
Please submit a Request for Quotation (RFQ) for the Taber Linear Abraser and any accessory or replacement items. Refer below to a description of the standard and optional components.
The included Adobe® Portable Document File (PDF) contains the Taber® Linear Abraser Model 5750 Set-Up chart. It is provided to assist in establishing specific test loads for the Model 5750:
Taber® Linear Abraser Model 5750 Set-Up Chart
Complete Data Sheets for Taber® Abraser Model 5750:
Taber® Abraser Model 5750 Data Sheet
Get a Quote or Purchase this Product