Product Description
"The Cut and Chip Tester provides a simple, quick laboratory method to evaluate cutting and chipping resistance of rubber compounds subjected to harsh mechanical environments."

The BFGoodrich Cut and Chip Tester was developed to predict the service performance of passenger, truck, OTR, farm, mining and industrial solid tires, tank tracks and bogey wheels, as well as industrial products such as conveyor belts that are subjected to contacting surfaces containing sharp objects (rocks, gravel, glass, metal, etc.). The test is designed to be quick, inexpensive and furnish a high level of confidence in predictive testing of actual product performance.

The Cut and Chip Test is performed on a prepared disk shaped specimen mounted on a rotating shaft. The disk is impacted by a tungsten carbide knife with a precision ground cutting edge. An eccentric applies the knife at a specified frequency for a specified time, both of which are selectable within a range.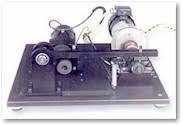 A pneumatic cylinder lifts the knife support arm at the completion of a pre-selected test time. The resistance to cutting and chipping is based upon the loss of material (mass and reduction of disk diameter) over the duration of the test.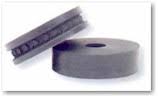 BFGoodrich Cut & Chip Tester Cut and Chip Tester: Specifications
| | |
| --- | --- |
| Main Unit (W x L x H): | 610 x 610 x 610 mm (24 x 24 x 24 inch) |
| Electrical Service: | 110 - 120 VAC, 60 Hz, 1 PH, 20 Amp |
| Net Weight: | 65 kg (143 lb.) |
| Specimen Size: | 51 mm Ø, 13 mm (thickness), 13 mm (center hole) 2.0 inch Ø, 0.50 inch (thickness), 0.50 inch (center hole) |
| Specimen Rotation: | 200 - 1000 RPM |
| Test Cycle: | 0.1 - 999 minutes |
| Cut/Chip Cycle: | 15 - 120 RPM (0.25 - 2.0 Hz) |
| Mass @ Knife Edge: | 454 gram (others optional) |
Index Terms:
BF Goodrich Cut and Chip Tester, BF Goodrich, abrasion, cut, chip, abrasion resistance, tire, OTR, industrial solid, farm, mining, tank track, bogey, bogey wheel, boogey, wheels, tire test, tire testing, tread, service life, service performance.