ElasTek™ Rheometer Replacement Parts 1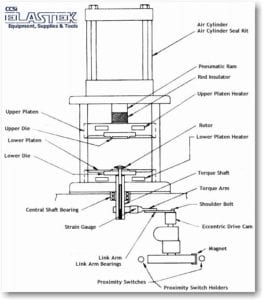 Please Submit a Request for Quotation for availability and delivery.
---
1 The parts listed above are a small representation of those readily or immediately available! CCSi inventories and sources a wide range of instrument parts… please e—mail techinfo@ccsi-inc.com if you have other requirements or questions.
Index Terms:
rheometer, viscometer, Mooney, TM100, R100, R100S, MDR, ODR, MV 2000, ODR 2000, Moving Die Rheometer, curemeters, cure meter, rotors, upper dies, lower, dies, orings, o rings, o-rings, rotor shaft seal, torque shaft, AS003, collet, AC009, bearing, AB171, torque arm, AA004, thrust bearing, AB011, draw bar, AB002, bevel gear, AG001, height adjusting screw, AR038.