Product Description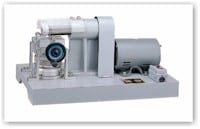 The Hung Ta™ Charpy & Izod Sample Cutter Model HT8124A is designed for preparing specimens as described in ASTM D256 "Standard Test Methods for Determining the Izod Pendulum Impact Resistance of Plastics."
The Model HT8124A also meets the requirements of ASTM D6110 "Standard Test Methods for Determining the Charpy Impact Resistance of Notched Specimens of Plastics".
The tests require specimens made with a milled notch, hence the test is often referred to as the "notched bar impact test". In the Izod Test (ASTM D256 Methods A, C, D and E) test and the Charpy Test (ASTM D6110), the notch in the specimen serves to concentrate the stress, minimize plastic deformation and direct the fracture to the part of the specimen behind the notch.
The Hung Ta™ Charpy & Izod Sample Cutter Model HT8124A employs a single-tooth cutter (the preferred design) to mill a precise notch in the specimen, reducing "notch sensitivity" and improving repeatability and reproducibility.

Hung Ta™ Charpy & Izod Sample Cutter Model HT8124A: Specifications
| | |
| --- | --- |
| Notch Angle: | 45º ± 1º (22½º ± ½º per notch side) |
| Cutting Speed: | 1800 or 3400 RPM (selectable) |
| Motor: | 1/4 HP, heavy duty |
| Overall Dimensions (L x W x H): | 580 x 450 x 310 mm (22.8 x 17.7 x 12.2 in.) |
| Power Required: | 110 / 220 VAC, 1 PH, 50 / 60 Hz |
| Net Weight: | 45 kg (99.23 lb.) |
| List Price: | Please Submit a Request for Quotation (RFQ) |
Index Terms:
charpy, izod, test, specimen, test specimen cutter, sample, cutter, sample cutter, D256, ASTM, ASTM D256, D6110, ASTM D6110, notched bar, notched bar impact test, notcher.