Product Description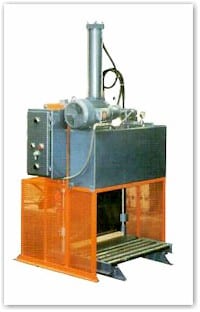 The ElasTek™ Hydraulic Guillotine Bale Cutter is designed to be the most compact, versatile, and powerful guillotine style bale cutter available. It is ideal for production applications, yet small enough to be considered for high volume laboratory applications.
The Guillotine Bale Cutter features a welded structural steel frame, steel mesh safety enclosure, and a heavy duty hydraulic system driven by a high horsepower electric motor … combining to assure a long service life!
The 32 inch wide cutting blade is manufactured of high carbon content tool steel, guided by bronze guide, steel bearings with alemite lubrication fittings.
It is registered against a replaceable cast urethane striker plate, virtually eliminating bale contamination caused by other materials.
Bale contamination has been a long standing problem with hydraulic type bale cutters. The ElasTek™ Bale Cutter utilizes flexible high pressure hoses and connectors, as opposed to rigid lines and fittings. Furthering the engineered elimination of bale contamination, the hydraulic pump is located directly above the fluid reservoir. The reservoir has a recessed upper surface to collect any unnoticed residual.
The ElasTek™ Hydraulic Guillotine Bale Cutter also features:
dual palm control buttons which necessitate safe, two handed operation;
32 inch wide x 0.5 inch thick "knife edge" cutting blade, suitable for 'thin' slicing of NR, synthetic, fiber, and some plastic bales;
easy—to—load 36 inch wide steel roller feed conveyor with 6.5 in. load height (pallet height);
compact size.

ElasTek™ Hydraulic Guillotine Style Bale Rubber Cutter: Specifications
Hydraulic Cylinder:
Bore: 4 inch (102 mm)
Stroke: 25 inch (625 mm)
Pressure: 2,000 psi (137.9 bar), double acting
Hydraulic Capacity:
45 gallon (170.3 liter)
Cutting Force:
12.4 ton (11,249 kgf)
Cutting Blade:

32 inch (813 mm) width x 0.5 inch (12.7 mm) thick;
cold drawn steel blade guides;
bronze bushing, steel bearing blade movement;
1 inch (25.4 mm) thick carbon steel blade receptacle;
cast urethane blade receiver.

Motor:
7.5 H.P. (9,250 m2 kg s m-3), 220 VAC, 3 PH
Control Panel:

OSHA dual palm operational switches;
side mounted, behind safety screen;
motor starter;
overload circuits;
emergency shut off.

Dimensions:

overall height: 92.25 in. (234.3 cm);
overall width: 48 in. (122 cm);
overall depth: 45 in. (114.3 cm);
safety cage height: 31 in. (78.7 cm);
loading height (to conveyor): 6.5 in. (16.5 cm), or pallet height.

List Price:
Please Submit a Request for Quotation (RFQ)
Index Terms:
Hydraulic Guillotine Style Rubber Cutter, rubber cutter, rubber, cutter, guillotine cutter, rubber cutters, cured rubber, uncured rubber, specimen cutters, specimen preparation, bale cutter.